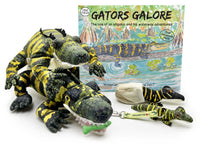 NEW Collection!
We're super excited to announce Sue Trew's newest collection! Gators Galore is a story featuring "Giz" the young alligator who was born in the book Manatee Magic. One day he finds himself washed away in flood waters and into an adventure!
Shop Gators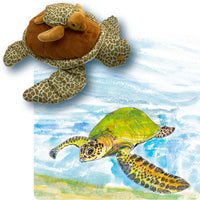 Unique and Original
All our books are beautifully written and delightfully illustrated with hand painted watercolours by Barbados artist, Sue Trew. The original artworks depict the featured animals in each story in a natural, realistic style that gives a whimsical and enchanted feeling.
Fun While Learning
Our fun, educational stories capture the imagination of young children, helping them learn to read and teaching them about the fascinating world around us. Adults and older children also love the 'Discussion Facts' in the back of each book which provide additional information for the inquisitive reader.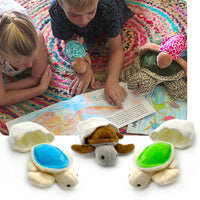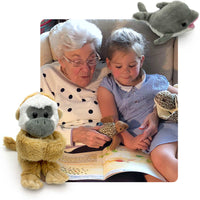 Family Time Together
A great way for parents, siblings, grandparents and friends to spend time together, and for children to enjoy hours of fun playing with the collectible and very cuddly plush toys of the main characters in each of the books.
Caring for the Environment
Each book is based on scientifically-accurate information about the featured animals and their habitats, while sensitively introducing some of the environmental issues that may affect them. We hope that familiarization with these topics will encourage children and parents alike to think about how to harmoniously co-exist with the enchanting world around us.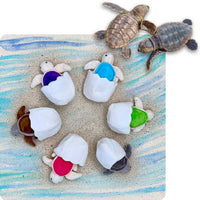 Collect the entire series of Storybooks & Toys!
From Turtles and Dolphins to Manatees and Monkeys, our magical storybooks feature lovable plush and cuddly characters that bring stories to life and make reading and playtime fun.
Shop Now
---
Testimonials
We all love the wonderful illustrations in these books. They are a brilliant way to bring conservation and the environment into focus for children in a way that should inspire them to appreciate the wonders of the world around them.

Angie Teversham | Grandmother
My class of primary school children have learnt so much from this series of exceptional books. The fabulous illustrations and beautiful toys help to bring the stories to life. We have the whole collection!!

Karen McGuire | Teacher
I am thrilled to see such interesting and informative children's books and toys that are accurate in every detail and bring attention to important environmental issues.

Professor Hazel Oxenford, PhD | University Lecturer and Researcher
These beautifully illustrated books have proved to be a wonderful connection for our English Grandchildren to our lives in Barbados. The cuddly toys bring the characters to life, and they all have a favourite. I used the books and toys during Lockdown Zoom sessions with my grandchildren as part of their home-schooling programme.

Judy Jones | Grandmother
Not only are the plush animals absolutely adorable, but very well made and a great price point. We get a lot of customers that will buy the book and then come back and purchase the plush animals that go with that book, because the kids love the stories so much they insist on having the complete set.

Charlotte Johnson-Hunter | Store Owner
My boys and I absolutely love these books! The stories keep them engaged and they love all the facts that are included. There are super cute stuffed animals to match the book characters as well. My youngest son has been sleeping with his manatee since he got it. Awesome for story time and they make great presents!

Rachel de Caires-Harris | Mother
The Turtle Tracks products have been a huge hit with our customers young and old! The books have a great educational message ... and the adorable plush that go with the books are loved by all! New products come out often so customers can keep coming back to add to their collection! I highly recommend these products for coastal stores - it makes for a very eye catching display your customers won't miss!

Avery Smith | Store Owner